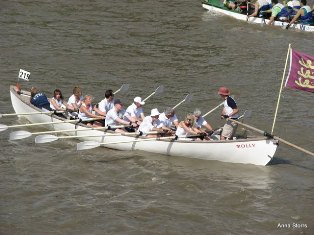 Click to enlarge
With thanks to Anna Storrs.
The Great River Race website is here with official results, details, links to pictures, etc.
Molly completes another excellent Great River Race
Against an international field of nearly 300 boats, Molly's crew of 12 (10 oars, helm and passenger) completed the prestigious 22 mile course from Docklands, through London to Ham near Richmond, in the impressive time of 2:45:29. Molly was the 5th whaler home. Speedwise she was the 2nd fastest whaler, exceeded only by The Royal Netherlands Naval College who row with 12 oars to Molly's 10. - Well done you Mollys!.
The wider lower reaches offered a less congested start than has been the case when starting at Richmond, (the race has previously always run from West to East).
The new direction presented new perspectives of all the famous sights.
Molly's helm and "passenger" were changed at about half hourly intervals, as the crew counted off the 28 bridges from Tower to Richmond. A strong westerly wind blowing against the tide whipped up some interesting waves in the early stages.
In the narrower and greener upper reaches the water was calmer though the wind hardly let up and the pressure was on to pass as many whalers as possible. Speed was regularly exceeding 8, and occasionally hitting 9mph.
Also known as "London's other Marathon", the internationally renowned Great River Race remains one of Henley Whalers' favourites.