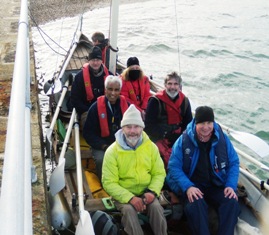 On the morning of 2 January 2011 the "Ice Breaker" outing lived up to its name: before leaving Henley at 7.30am ice had to be broken up and removed from Molly's cover before driving down to the coast – some water had gathered on the cover overnight and had frozen in the low night temperatures!
Shortly after 9.30am eight hardy Henley Whalers met at Calshot Castle to see in the New Year with a row/sail to the Isle of Wight for lunch. The crew was made up of Geoff, Madeleine, Paul, Bob, Robin, Lynn, Steve and new member Chris North. The weather was cold, dry and slightly overcast, with light winds.
After rigging Molly and other essential preparations we set ourselves up with some welcome refreshments – honey rum, hot chocolate and baklava! A short discussion followed (in best Molly crew style!) as to whether we should row or sail across. We eventually decided to row to Cowes and then sail back.
"Rowing for Peasure" article here.
Any other contributions welcomed.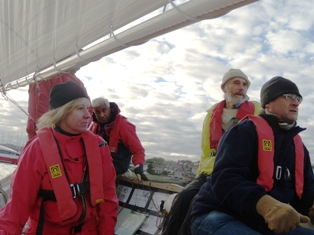 The launch into calm waters was straightforward and we finally set off under oars at about 10.45. The tide was ebbing, so we set a course some way to the east of Cowes in order to let the tide take us across the Solent and into the mouth of the Medina River. The Solent was remarkably empty – the steady rhythm of the Red Line ferries was occasionally punctuated by the sight of a lone yacht or a container ship – compared with the huge number of craft we saw in the height of summer when MOLLY was last there for the English Raid!
After a steady row of 4 nautical miles across the Solent we reached the Town Quay at Cowes easily, just before midday. We were welcomed ashore by Chris Partridge from the Langstone Cutters, who had moored up at the Trinity Quay. They are based in Langstone Harbour and a crew of six had decided to launch at Lee-on-Solent and row over to Cowes, to meet up with us for lunch. The landlord of the nearby pub, the Union Inn, easily persuaded us to stop there with the promise of a roaring log fire and plenty of food! Steve and Viv came down by car & ferry and found us in the Union, where sixteen of us passed a very convivial meal together!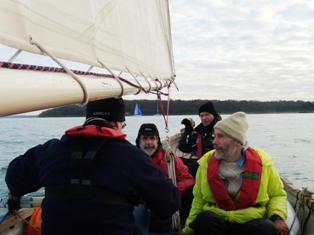 We "set sail" at about 2pm, but in reality after just a few tacks we recognised that the light northerly wind and slack tide were not helping Molly make much headway. We soon resorted to the "inboard engine" of seven rowers! A slight freshening of the breeze tricked us into trying to sail once more, but this did not last long and we finished the crossing under oars in order to reach Calshot before dark. We made landfall on the "North Island" (as Isle of Wight residents allegedly refer to the Mainland) at about 4pm, just as the light was beginning to fade. We managed to recover and pack up before darkness fell and then celebrated our "epic" voyage with champagne and Christmas cake under the car park lights!
Madeleine Probert 9 Jan 2011
Stats - Outbound - Rowing - About an hour- Anyone remember?
Inbound - Sailing & rowing - 4.9Nm, 1hr56m, Av2.5Kt, Max 5.5Kt.1
Did you take any pictures? - Pass them to Webmaster