Current pictures are from the lens of PW & CB.
Click a picture for a larger version. For even higher resolution,
ask me
Contributions, pictures, captions, narrative, feedback; all
welcomed
Molly sweeps the board at The "Scottish Raid", "Sail Caledonia"
Yet again, Sail Caledonia gave all participants an action-packed week, from the first race across tidal Loch Linnhe on Saturday 26th May, to the final ceilidh on Friday 1st June.
Sunday morning ascending Neptune's Staircase in company with the 15 or so other boats was very restful, unlike the rowing race to Gairlochy which followed.
Successive sailing and rowing races through stretches of canal, and Lochs Lochy, Oich, and Ness, brought us to Inverness where we again raced on tidal waters.
The most arduous day was Wednesday; "The Loch Ness Challenge"! The whole length of the Loch, and most of the way back. In flat calm three crews rowed away from the start at 0600 with the prospect of a long day ahead. A following wind slowly picked up, but the sky instead of getting brighter, darkened as heavy rain developed, and Fort Augustus disappeared into the gloom. It was a long, cold sail before the far end of the Loch Ness came into sight! At last we rounded the buoy and started a long series of tacks upwind to the finish at Foyers.
Friday's race across the estuary was great fun, with the whole fleet in sight of each other from start to finish.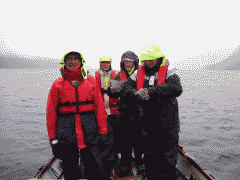 Wednesday. Loch Ness - Cold and wet