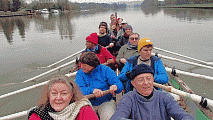 Rowing home 1
Click any picture to enlarge
With a history of Boxing Day rows cancelled (2012, 2013, 2016, 2017) due to unsuitable river conditions, or poor weather on the day, it was a pleasure to awake to warm weather, and no rain, already knowing that the river was only on "Yellow Boards" (Environment Agency indication of river flow rate. Our whaleboat is hardly affected by "Yellow" conditions).
A full crew, comprising several "Whalers" and a similar number of relatives and friends, met at UTRC at 11:20 for the row upstream to Mill Meadows.
Cast off was achieved by 11:35, and "Molly" moored near The River and Rowing Museum at 12:10.to meet the Ground-crew/Shore-party.
Arrivals on foot and by car, then acquaintances who happened to be passing by, eventually swelled the numbers to around 30!
Food, drink and merryment were enjoyed in plenty.
An easy "downhill" row returned Molly to her mooring by 13:45.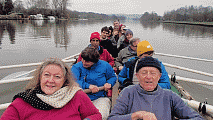 Rowing home 2