History of The Henley Whalers
"GT" started the group of friends that became Henley Whalers in 1993, soon after he had moved to Henley on Thames in his late forties.. He had sailed offshore keelboats for many years, but he was now looking for a seaworthy boat he could trail to the sea, and also row on the Thames. He came across his first whaler in the South of Ireland in late 1992, brought her back on a primitive trailer, and sailed her in the Solent with his twin brother in early January 1993. He was more confident in the boat's sailing ability than in his and his friends' rowing, so he fitted a six hp outboard as well for coastal sailing. Renamed 'Lutra lutra' (the common otter) she rowed the Great River Race for the first time in 1993, and crossed the Channel under sail (Hamble to St Vaast and back) in 1995. To show his increased belief in rowing, he rigged Lutra for ten oars rather than the traditional five, and rowed from Dover to Calais in six hours on an October day in 1998.
Our second Whaler was Collingwood, rescued from beneath an oak-tree in Morpeth in 1996. After an extensive rebuild she became the group's 'best boat', and carried the whaler's standard as the best of all sail-and-oar boats in three successive Great Glen Raids from 2000 -2002. Collingwood has never carried an outboard, so well does she row.
GT's conviction that sail and oar whaler-style still has a future, long after the navies have gone over to Zodiacs and RIBs for their small boats, is based on his experience that boats of this size and design can be fun to sail, fast to row, and a great way of involving people who have done little of either. "Henley Whalers" boats have ranged far and wide, with memorable appearances in Amsterdam, Venice, Brest, Douarnenez, the Scottish Highlands, Sweden and, repeatedly, the Thames for the Great River Race, where Collingwood won the Montagu Whaler trophy for three years running, and the Pussers Rum Trophy for fastest whaler overall on two occasions.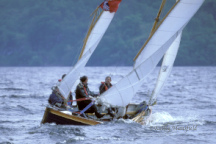 (C) Kathy Mansfield 2003